AV Access Launches a Brand-New 4K HDMI ARC Extender to Simplify Home Theater Setup
"The past few years have seen the rapid development of home theater systems. With Ultra HD TVs and new powerful audio codecs becoming the new trend, people are more likely to enjoy a full movie theater experience at home. The 4KEX70-ARC-H2 HDMI ARC Extender can provide a two-way sound flow between the television and the home theater system over long distances. "
The 4KEX70-ARC-H2 HDMI ARC Extender can make installing a home theater system much easier. Users can easily expand [email protected] UHD HDMI signal up to 40 m via CATx cable. You can also switch between two modes (ARC mode and S / PDIF-in mode) either for long-distance ARC expansion or audio extraction.
AV Access, a leading brand in the online pro AV industry, recently announced the addition of the 4KEX70-ARC-H2 extender to the company's portfolio. Users can deploy this HDMI over HDBase-T extender for long distance ARC expansion. For example, they can return audio signals from a television in their living room to an AV receiver in their basement 40 meters away.
ARC expansion and audio extraction
"The 4KEX70-ARC-H2 HDMI extender consists of a transmitter (TX) and a receiver (RX). The RX has an audio dip switch that can be used to control audio output: ARC mode and S / PDIF in mode. These two modes are designed for ARC expansion and audio extraction, respectively. This is the most noticeable feature of the extender, "said Mandy Xiong, CEO of AV Access.
When users need to feed audio back from a TV in the living room to an AV amplifier in the basement, they can switch to ARC mode to feed audio from their HDTV (with ARC support, connected to the RX) back to their AV amplifier to transmit connected to the TX. So you can enjoy a full theater experience with Dolby TrueHD, Dolby Atmos, DTS-HD Master Audio, etc. in the basement.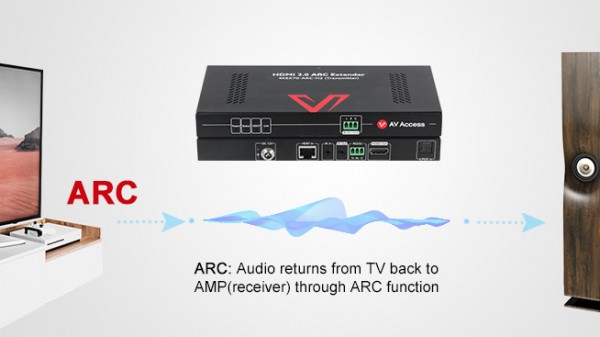 If users want to stream audio from one of their audio systems to their AV receiver in another room, they can toggle S / PDIF In Mode to configure the additional S / PDIF input that routes optical audio from the RX to the TX . The extender kit also comes with an HDMI audio de-embedding with an analog Phoenix connector.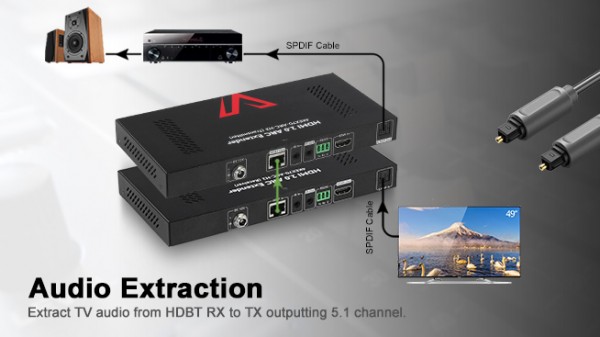 Bidirectional PoC / IR / RS232
The advanced 4KEX70-ARC-H2 extender can transmit [email protected] 4: 4: 4 UHD video signal up to 40m / 130ft or 1080P up to 70m / 230ft via Cat5e / 6/7 cable. It supports bidirectional PoC so that only one power supply unit is required on the TX or RX side to supply both with power. Bi-directional IR also allows users to control both the HDMI source and the display on the remote side, making it more convenient for users. In addition, it also supports CEC and RS232 pass-through.
"In short, the 4KEX70-ARC-H2 HDMI ARC Extender offers a simple and reliable solution for your home theater system. You can easily achieve two-way sound flow between your TV and the home theater system over long distances, "concluded Mandy.
Via AV access
AV Access is the global professional manufacturer and innovator of advanced pro AV products and intelligent home office devices. Our products are plug-and-play and highly reliable, including extenders, splitters, switches, matrices, AV-over-IP codecs, and USB peripherals. Since our inception, our mission has been to make people's lives and work easier. We will continue to develop innovative products and solutions in smart home office, enterprise, education, retail, government, entertainment, healthcare, etc. Strong research and development, a high-performance supply chain and an excellent management team make AV Access your loyal employee partner!
Learn more at www.avaccess.com.
Media contact
Company Name: AV ACCESS TECH LTD
Interlocutor: Shane Jiang
E-mail: Send e-mail
Phone: +86 0755-21620567
Address:UNIT 2801 28 / F, NO.88 HING FAT STREET, CAUSEWAY BAY
City: HONG KONG
Country: Hong Kong
Website: www.avaccess.com
Advertising. Scroll to read on.